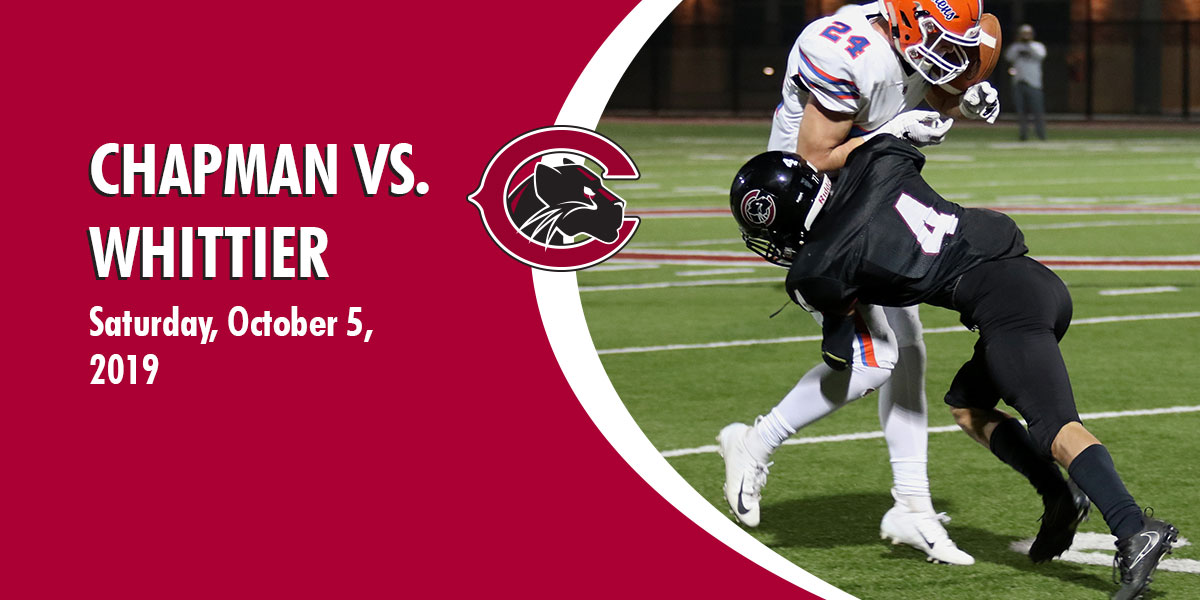 Chapman Athletics:
Chapman Football 2019: Chapman vs. Whittier
Saturday, October 5, 2019 | 7 p.m.
The Chapman University Panthers face off against Whittier College during the 2019 Homecoming Game.
Your ticket guarantees entrance into the game, but does not guarantee a seat on the home side. A wristband will also be needed to enter on the home side. Wristbands will be available starting at 5pm on October 5th at both main entrances to Ernie Chapman Stadium (home side). Wristbands are not required for entrance to the Standing Room Only section beyond the north end zone or on the Keck Center side (visitor's side) of the field.
---
Free Parking
Free parking is available for all ticketed events on campus that take place after 4 p.m. and on weekends, subject to availability. To take advantage of this offer, you must register your vehicle's license plate in advance of your event.
Register your vehicle in advance for free parking!
Ticketing Services
Chapman Ticketing Services is open Monday-Friday from from 9 a.m -4 p.m. We are located at 337 N Lemon St, Orange, CA 92866. Parking is available in the driveway.